Our centre
Orchard Road Community and Early Learning Centre is a purpose-built community hub located in the heart of Doreen. It is next door to Ashley Park Primary School and Riverstone Shops and a short drive from Yarrambat Primary School.
Orchard Road is a one-stop shop for our community's young families:
a maternal child health centre

taekwondo

music lessons

ballet classes

parent support groups

tutoring

other community groups such as the Doreen 1st Scouts.
Creating a stimulating and fun environment
Our centre has 8 rooms catering for nursery-aged children (2 and under) up to kindergarten (4 to 6 years old). Each creates a stimulating and fun environment aligned with the Early Years Learning Framework. Each room has spaces that encourage children to play on their own or in groups, both small and large.
We aim to create spaces that are as comfortable as possible. The spaces include:
soft furniture such as couches

non-toxic plants

natural lighting

cushions

rugs

family photos from the children and staff

neutral paint colours.
Making mud pies and climbing walls
Our outdoor play space is over 2500 m2 and has plenty of room to run, jump, ride bikes and laugh.
Our under 3s love our digging patch, sandpit, cubby house, climbing equipment and slides. The children can explore and discover new skills at their own pace. With the large shade sails, we encourage outdoor play all year round.
Our kinder-aged children can access a large rock climbing wall, a slide, swings and climbing equipment. Our water pump and rock river bed allows us to gather water to add to the sandpit to make mud pies or to have leaf races!
We also have bamboo screening where children can sit, reflect and enjoy quiet time.
Building an open dialogue
Our educators build an open dialogue with families. They are always happy to discuss your child's progress with you. There are also opportunities to connect with our educators during our family events such as our centre's birthday and family Christmas parties.
We connect with families via the Storypark platform. It's a great resource for everyone to track learning milestones.
Healthy eating
The centre's cook prepares morning tea, lunch and afternoon tea. Our educators also prepare breakfast for children who arrive before 8:00 am and a late snack just before 6 pm. 
The Healthy Eating Advisory Service guides our menu that caters for all dietary requirements.
Hiring a room
We manage several large, medium and small rooms in the centre. Enquire about hiring a room.
Get in touch
Operating hours
Mon: 6:30 am – 6:30 pm
Tue: 6:30 am – 6:30 pm
Wed: 6:30 am – 6:30 pm
Thu: 6:30 am – 6:30 pm
Fri: 6:30 am – 6:30 pm
Sat: Closed
Sun: Closed
Have you seen this symbol?
Orchard Road Community & Early Learning Centre is an approved provider of a Victorian Government funded kindergarten program. That means we deliver a play-based learning program led by a qualified early childhood teacher.
We provide early learning and care for
Ages: 6 Weeks- 2 Years
No. of Rooms: 1
Room Capacity: 12
Teaching Ratio: 1:4
Ages: 2 – 3 Years
No. of Rooms: 2
Room Capacity: 12
Teaching Ratio: 1:4
Ages: 3- 5 Years
No. of Rooms: 2
Room Capacity: 22
Teaching Ratio: 1:11
Ages: 3 – 5 Years
No. of Rooms: 3
Room Capacity: 22-33
Teaching Ratio: 1:11
Indoor learning spaces
Outdoor learning spaces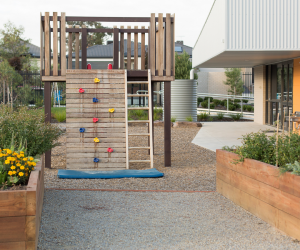 Meet the manager
Rebecca Davis
Centre Manager
My name is Beck and I have been with the "Y" family for 15 years. I am fortunate to be the centre manager of this wonderful centre since 2017.
I have seen many transformations in my 20 years' experience within Early Childhood education.  I currently hold my Advanced Diploma and studying my Bachelor of Teaching.
I would describe Orchard Road Community and Early Learning Centre as "A place for everyone to belong, a meeting place where opportunities are endless, where friendships are made and memories are told".
I am passionate about building strong relationship and connections with children, families, educators and the broader community.
We are here for the children, their families and to provide a safe space for everyone.
I look forward to welcoming you and your family to Orchard Road Community & Early Learning Centre.
Testimonials
See what our families have to say about Orchard Road Community & Early Learning Centre
Everyday our son comes home from long daycare he tells us

" I played with all my friends today"

It's so lovely to hear that he was happy and can't wait to come back.

After a slow start to childcare, Oscar has settled into Orchard Road. He adores his educators who have gone above and beyond to ensure my little softy has felt welcomed and safe.

It is truly because of the friendly staff that he felt comfortable to attend without tears. He now looks forward to coming and telling Rach and Beck about his latest Lego stories.  So thrilled to have such a great team and service to care for my son.

After being nervous to start our daughter in childcare, we couldn't be happier with the care, support and programs provided at Orchard Road Early Learning Centre.

The 3 and 4 year old kindergarten programs were the perfect preparation for our son beginning primary school. The focus on social and emotional learning and care shown by the teachers was fantastic and exactly what we were hoping for.

I have my both children attend orchard road YMCA over the past 3 years and one still attending now. I have been truly amazed at the dedication of all the staff. They are amazing with children, creating safe, warm and welcoming environment. The learning spaces are set up really well, keeps the children engaged and happy.

I have always felt comfortable in interacting with the staff as all educators are really friendly and helpful. All I want to say is big thank you to all the staff of orchard road YMCA for creating such safe and friendly environment for kids

Montana has been going to Orchard Road Long Day Care for 18months and in that time Montana has blossomed and thrived beyond our belief. Every room she has been in and every educator she has had, has been beyond caring, nurturing and educating Montana to the highest of levels. Montana loves every time she goes to daycare and can't wait until the next time she can go.
Timetable and enrolment
3 & 4 Year Old Sessional Kinder
If you are applying for your child to attend 3 or 4-year-old kindergarten, you will need to contact Whittlesea Council to apply and submit your completed application form, you can do this by visiting the following website: https://www.whittlesea.vic.gov.au/community-support/children-and-families/kindergarten-applications/
Early Learning and Long Daycare Kinder
If you'd like to jump on the Orchard Road Community and Early Learning Centre waitlist please click the Xplor link below and fill out the form.
Alternatively if you'd like more information on our programs and services please fill out the enquiry form below and a team member will get in contact with you.